Travel Photography
The massive growth of Instagram, social media, and travel blogs in recent years has had a profound impact on how we travel. Not all of it positive. Has travel changed forever?
As someone who makes a living as a travel blogger and photographer, inspiring others to travel, this topic has been on my mind a lot lately.
Over the last 9 years I've witnessed first-hand how travel destinations have become overwhelmed by tourists and Instagram selfie-seekers, many of whom seem to be destroying the places they visit.
In fact, I'm part of the problem. And I don't know how I feel about that.
As you'll see below, this is a multi-faceted issue, with many different components involved. Social media isn't the only culprit.
But how do we fix it? Is it even possible, or are we too late?
Overtourism Is A Problem
Tourism helps drive local economies, and countries spend a great deal of time and money attracting travelers to their destinations for that very reason.
But there can also be too much of a good thing. The phenomenon is called "overtourism", and it's beginning to take a toll on local communities, and even entire countries.
Tourism helped save Iceland after its 2008 financial crisis. But now many residents have had enough. Since 2010, the number of visitors has more than quadrupled — putting a ton of strain on infrastructure and the environment.
Just 800 people visited Norway's picturesque Trolltunga "Troll's Tongue" viewpoint in 2010, while 80,000 people made the hike in 2016. This massive surge of tourism (and rescue missions for those unprepared for the 10 hour trek) was fueled in a large part by social media.
Recent protests in Venice and Barcelona showcase what unchecked tourism is doing to these popular European cities. Neighborhoods become too expensive for locals as investors buy up apartments to rent out to tourists.
More People Are Traveling
Over the past 10 years tourism in general has surged, driven by a rising middle class around the world. This is especially true for emerging economies like China and India.
With more disposable income to spend, millions of new travelers are hitting the road and collecting photos for their Instagram feeds.
Travel has become more affordable and accessible too, with budget airlines like WOW Air and alternative accommodation options like Airbnb.
Studies have shown that Millennials prioritize experiences over possessions, and 72% of millennials say they are planning to travel more, compared with 59% of Gen Xers and 40% of Baby Boomers.
Travel is just hot right now. While the world saw 500 million international travelers in 1995, it has swelled to a massive 1.3 billion tourists in 2017 — and is growing even faster.
For those of us who've been promoting the benefits of travel, hey it's actually working! But there have been consequences…
Many of these new travelers are visiting the same handful of destinations, creating some massive issues with overcrowding. The tourist experience itself is deteriorating due to long lines and a lack of patience.
The Power Of Social Media
If you still don't think social media has the power to influence people, you've got some catching up to do. A new report by Fullscreen & Shareablee shows just how powerful it is.
"Almost half (42%) of 18-34 report trying a product recommended by an influencer, and more than one-quarter (26%) say they have actually made a purchase based on a recommendation."
Another study by the University of Georgia highlights the "bandwagon effect" and the "snob effect" that social media has on travel.
Some people choose their destinations based on what's currently trending, while others try to be "cool" by picking destinations that aren't as popular. Either way, social media is influencing their decisions.
[su_note note_color="#DCEFF5″ text_color="#333333″ radius="3″ class=""]I personally found this study interesting, because I try to do a combination of these two things as a strategy for my business. Highlighting a mix of popular and "undiscovered" places. LOL![/su_note]
The town of Wanaka, New Zealand saw a massive 14% increase in tourism to its region when it focused on inviting social media influencers to visit, far surpassing traditional marketing methods.
Social media is very effective at inspiring people to purchase plane tickets, book hotels, and visit the same locations as the influencers they follow.
Selfish Selfie Culture
When the crusaders reached Jerusalem, they visited the tomb of Jesus at the Church of the Holy Sepulcher, and proceeded to carve graffiti into the walls in order to say "I was here."
Humans have always been a selfish bunch. That hasn't changed. What has changed is the tools we use to feed our narcissism.
In the 12th century, it was a medieval dagger. In the 1980's, it was polaroid cameras and those agonizing family slideshows full of bad travel snapshots.
Just check out photographer Martin Parr's 1990's coffee table book Small World if you need reminding what tourism was like before Facebook.
These days, we're simply using Instagram, Facebook, and selfie-sticks to more effectively indulge in our narcissism, and to a larger audience.
Look at me! I'm so worldly & cultured, right? Like & comment if you agree!
We have to make our mark somehow, to feed those egotistical tendencies — and carving graffiti with daggers is no longer allowed.
A Checklist Mentality
Famous places are famous for a reason. They're beautiful. Or strange. They have historic or cultural value. You'll probably want to see them for yourself, and take a photo, just like countless others before you.
This isn't new to Instagram. As someone who was shooting travel photos before Instagram was a thing, just look at any postcard rack and you'll see many of the same famous locations on display.
People have been holding up the Leaning Tower Of Pisa for 30+ years.
The only difference is that our travel photos are public now. No longer hidden away in family photo albums.
Instagram has become a publicly accessible bucket-list of places you NEED to visit, fueling a FOMO (fear of missing out) attitude. We're trying too hard to impress everyone with our list.
Taj Mahal? Chichen Itza? Great Wall Of China?
Been there, done that. Got the t-shirt (and Instagram photo) to prove it.
The Algorithm
Instagram's algorithm pushes certain types of images to the top of your feed because they naturally get the most attention. Epic landscapes. Colorful sunsets. Famous attractions. Bikini bottoms on white sand beaches.
Even if you want to see other kinds of photography, the algorithm makes it difficult, because those images get buried at the bottom of your feed.
While you can certainly ignore the algorithm, and post whatever the hell you want, those photos most likely won't be seen by your followers.
So people who are trying to "make it big" on Instagram and get the most likes and followers — keep posting the same damn things over and over again, because they work.
It's a vicious cycle that leads to the repetition of un-inspiring images that you've already seen 100 times before.
Everyone's A Photographer Now
The hobby of photography has grown exponentially over the past few years with technology like digital cameras, smartphones, and online storage and sharing of images through social media.
This means there are simply far more photos of everything now.
It's estimated that 1.2 trillion digital photos were taken in 2017.
Photography has become more accessible to more people. Everyone and their grandmother is attempting to jockey into position for a memorable shot with their iPhone, iPad, or travel camera.
Countless professionals and non-professionals are sharing free photography how-to YouTube videos online. More of us are getting excited about photography than ever before!
Which is great — as long as we're following the rules, and not causing a nuisance for others.
Unfortunately, with so many new enthusiasts, there's a lot of ignorance about common photography etiquette too.
For example, walking directly into other people's shots, or taking too long to capture a photo when there's a line of others waiting their turn.
Destructive Human Nature
While the rise of Instagram and social media has certainly contributed to the problems, we can't discount the powerful effects of human nature, ignorance, and our tendency to trash the environment.
Social media has just amplified these consequences to new levels.
When a small sunflower farm in Canada was overwhelmed with visitors due to Instagram, police were called in to shut down the roads and protect the farm from further destruction.
When two women began arguing over a photo-op at Italy's most famous fountain, it soon escalated into a violent brawl.
Members of a popular group of YouTube/Instagram stars who were jailed for breaking multiple laws in pursuit of fame tragically died while attempting more stunts.
But this has been happening before Instagram too. For years people have been climbing Mount Everest, risking death for bragging rights, all while destroying the mountain with trash and human waste.
Travel Influencers & Money
The "Rick Steves Effect". The "Lonely Planet Effect". Even National Geographic. The ability to make a profit through travel writing and photography has always had both positive and negative outcomes.
Introducing millions of people to a new place and inspiring them to visit can inject a lot of money into a region. It can create new jobs for locals. It can broaden the minds of travelers who make the journey.
But it can also wreak havoc and chaos if the destination isn't ready for the onslaught of tourism that follows.
The internet broke down barriers to entry into this world, allowing anyone to become a travel photographer, travel writer, or YouTube video host.
It's how I got started 9 years ago creating this travel blog — chasing a dream, with no professional training.
As the world consumed more news and entertainment online, advertising dollars followed. Myself and many others have been able to make a good living sharing our travel adventures via social media.
Would you believe I'm able to charge up to $4000 for a single Instagram photo? Or $15,000 for a destination marketing campaign? Others with more reach can earn even more…
Suddenly, getting the perfect photo isn't just a hobby, it's a job. And more people become fixated on chasing dollar signs than having a real travel experience.
Yes, I'm Part Of The Problem
I'm fully aware of the irony of being a tourist myself, complaining about other tourists. And the further irony that I'm making a living doing it in the process.
While helping to promote these destinations to a wide audience as part of my business, they eventually get overwhelmed.
I'm not so egotistical to think that my content alone created these problems, but I certainly share some of the blame.
Example #1
Back in 2014 I traveled to Iceland for the first time, renting a campervan and driving the country's Ring Road. I wrote an article about my experience, which has been read over a million times by other travelers.
One location I mentioned was completely altered after my visit. Due to a surge of disrespectful tourists, the Sólheimasandur airplane trail was closed down to vehicles and the plane itself was wrecked by graffiti.
Example #2
Back in 2013 I visited a special monastery in Thailand where monks would give you a traditional Sak Yant tattoo, etched by hand, in exchange for a $3 donation. Filled with locals, and a few tourists, the experience was very authentic and cool.
However after word got around and the activity became super popular, the site turned into a gimmicky tattoo factory, with regular dudes doing the work (no longer monks), and charging upwards of $120 USD.
So What's The Solution?
Do travelers with "influence" need to be more careful about what they share online? Or will no location remain pristine and undiscovered for long, regardless of what we do?
Do governments need to do a better job managing their tourists, spending more money on enforcing laws, permit systems, sustainability, and infrastructure — rather than tourism marketing?
Or are we just undergoing an unstoppable change in how the world travels — due to a combination of population growth, a rising worldwide middle class, and our already narcissistic nature combined with social media?
I really don't know. Maybe there isn't a solution. But I'm hoping that together we can at least acknowledge that there's something troubling going on, and maybe try to do our own small part to make a difference.
Pick up some trash on your next adventure.
Observe posted signs and local customs.
Read up on travel photography etiquette.
Put down your camera from time to time.
Shame & report those who aren't following rules.
Learn more about the people and places you visit.
Don't treat travel as a competition or checklist.
Be aware your actions may have negative consequences.
If you agree that something needs to change, please share this article. Awareness and discussion are the first steps! ★
Enjoy This Post? Pin It!
[su_row class=""]
[su_column size="1/2″ center="no" class=""]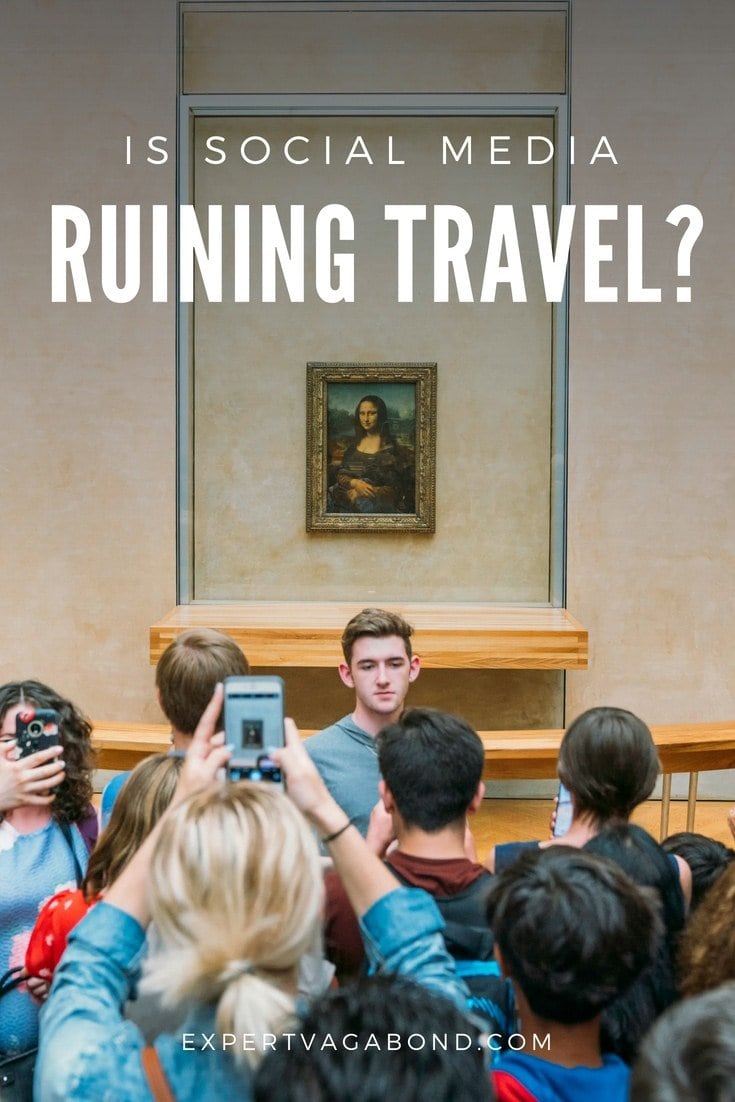 [/su_column]
[su_column size="1/2″ center="no" class=""]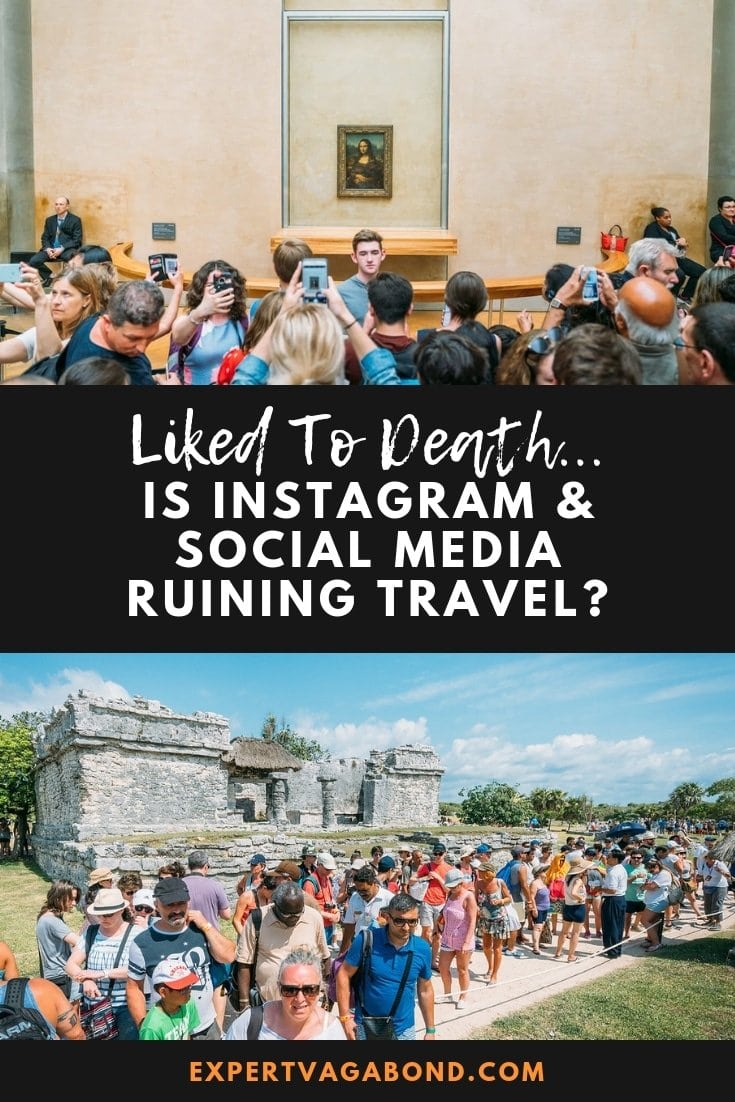 [/su_column]
[/su_row]
READ MORE TRAVEL TIPS
I hope you enjoyed my story about the impact of social media & photography on travel! Here are a few more wanderlust-inducing articles that I recommend you read next:
Do you think Instagram & social media is ruining travel? Can you share any additional examples? Join the conversation on Facebook, Instagram, or Twitter to share!